Originally published by Hypebeast
Written by Elena Bernstein
Pushin' p … ickles on pizza, that is.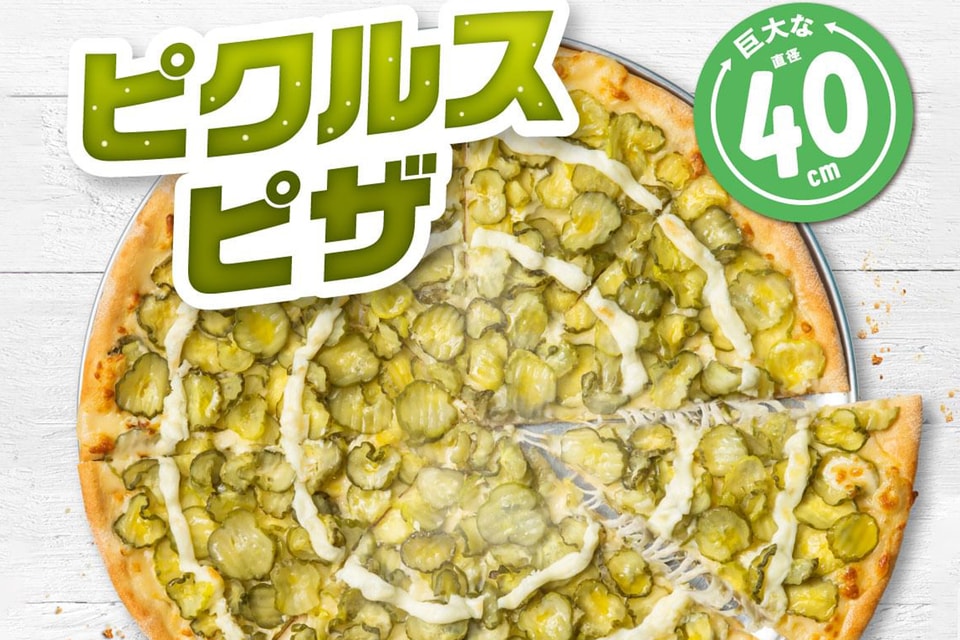 Photo by Domino's Japan
Notorious for its creative culinary ventures — the Fish and Chips Pizza, the Pizza Rice Bowl and the famed 34-Topping Pie, to name a few — Domino's Japan is back with its latest unconventional pizza: the Pickle Pizza, equipped with 1.32 pounds of sliced dill pickles.
Described as a "dedication to pickle lovers," the appropriately-named pie positions the pickle as more than just a mere topping, instead making it the star of the show. Sans tomato sauce, the Pickle Pizza is slathered with a layer of rich Camembert cheese, which works to counteract the sourness of the pickles. Customers have confirmed that, much like Domino's Japan's other pies, it is possible to add even more toppings, here pickles, to your pie for an additional cost of additional ¥590 yen, or $4.40 USD. The Pickle Pizza is available now for pick-up and delivery, though it is only available in a 40-centimeter (15.7-inch) size, roughly the size of a large Domino's pizza in the US.
Outside of Japan, Domino's is innovating in different fashions: the company recently launched a Domino's Pizza Apple CarPlay application that permits customers to conveniently order dinner directly from Apple CarPlay.
If you're based in Japan, the Pickle Pizza is available at all locations for a limited time only. If you're not, then you're in a pickle: it'll only see a region-exclusive release, as Domino's Japan, though under the same corporate umbrella as the USA's Domino's, limits its special products to its main country of operation.
https://texastitos.com/wp-content/uploads/2015/04/titos_logo.png
85
134
Sales
http://texastitos.com/wp-content/uploads/2015/04/titos_logo.png
Sales
2023-07-11 17:55:32
2023-07-11 17:55:32
Domino's Japan Presents Pickle Pizza