FRESH CORN AND JALAPENO GRIDDLE CAKES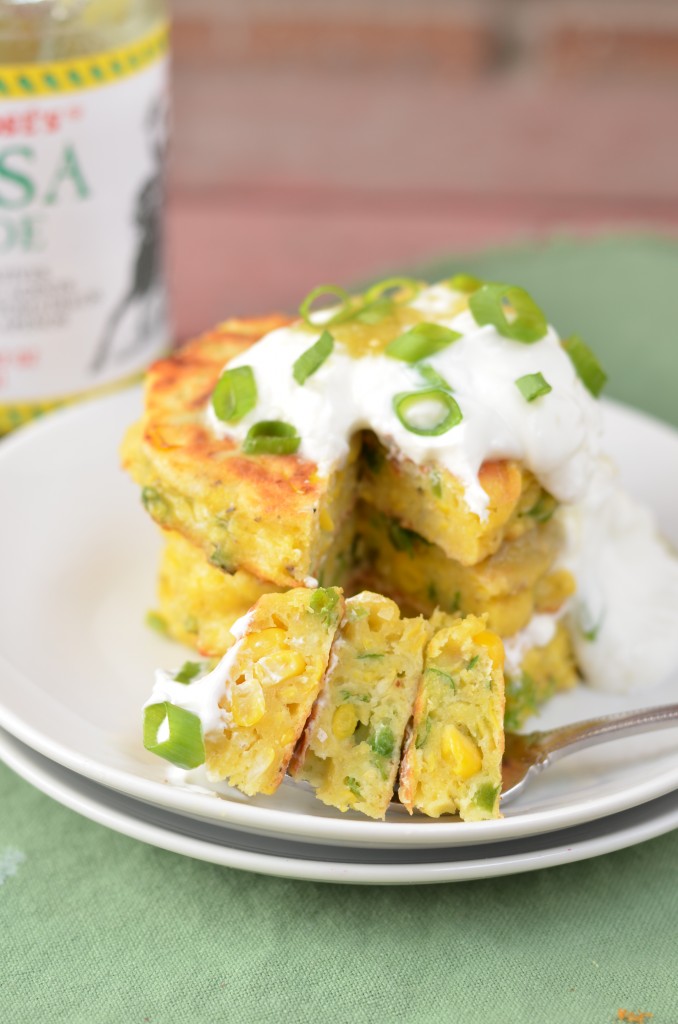 Memorial Day has passed, and that means it's (unofficially) summer!
If I had any white pants, I would wear them to celebrate. But I don't – and the days in Utah that are both a) between Memorial Day and Labor Day and b) cool enough to wear pants are few, if they exist at all – so I'll settle for eating fresh corn instead. Does that sound like a good plan?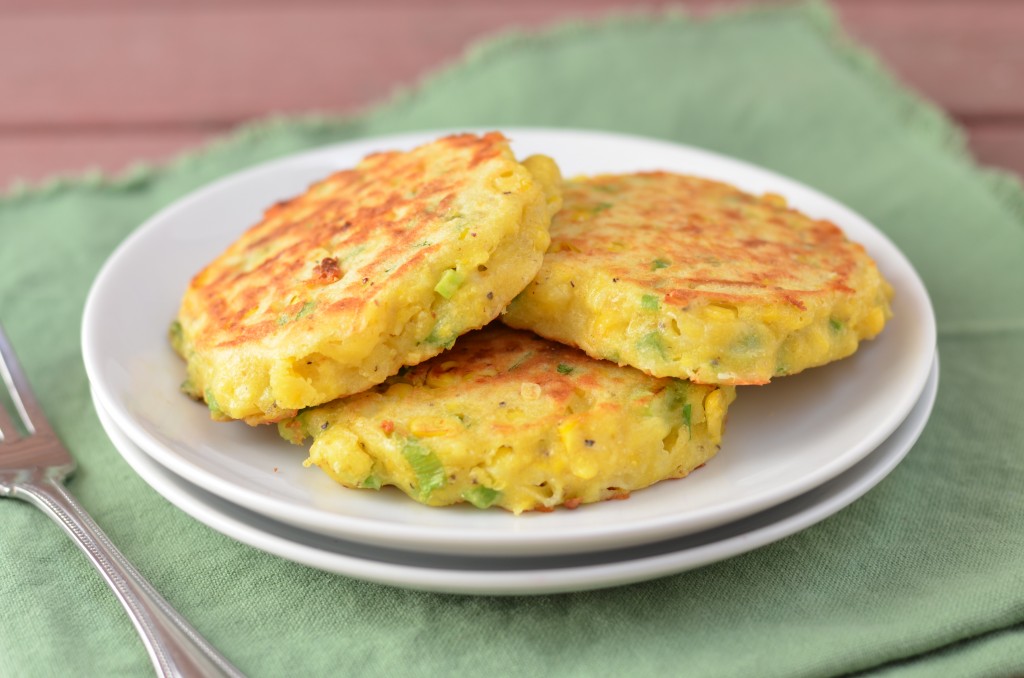 I thought so, too.
Ears of corn are 3 for $1 at my grocery store right now, so I'm trying to take advantage. I hope they're plentiful where you are, as well! If not, some defrosted frozen corn would serve as a good substitute here.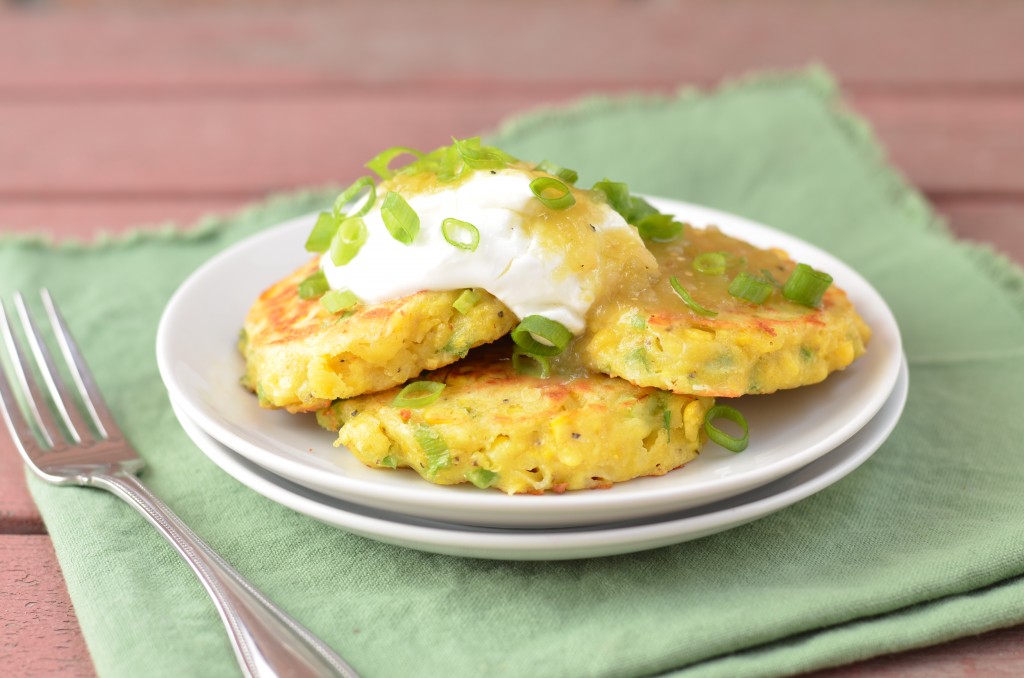 I'm calling these "griddle cakes" because I'm not sure what else to call them. They are stuffed with fresh corn, jalapenos, green onions, and cheddar, and then grilled to a crunchy golden perfection. They're too chunky and have too high of an egg-to-flour ratio to really be called pancakes, although I do think they'd make an excellent brunch dish. "Griddle cakes" sounds more rustic and savory to me, which these certainly are, so that's what we're calling them! And if you own a griddle to cook them on, well, that's a bonus.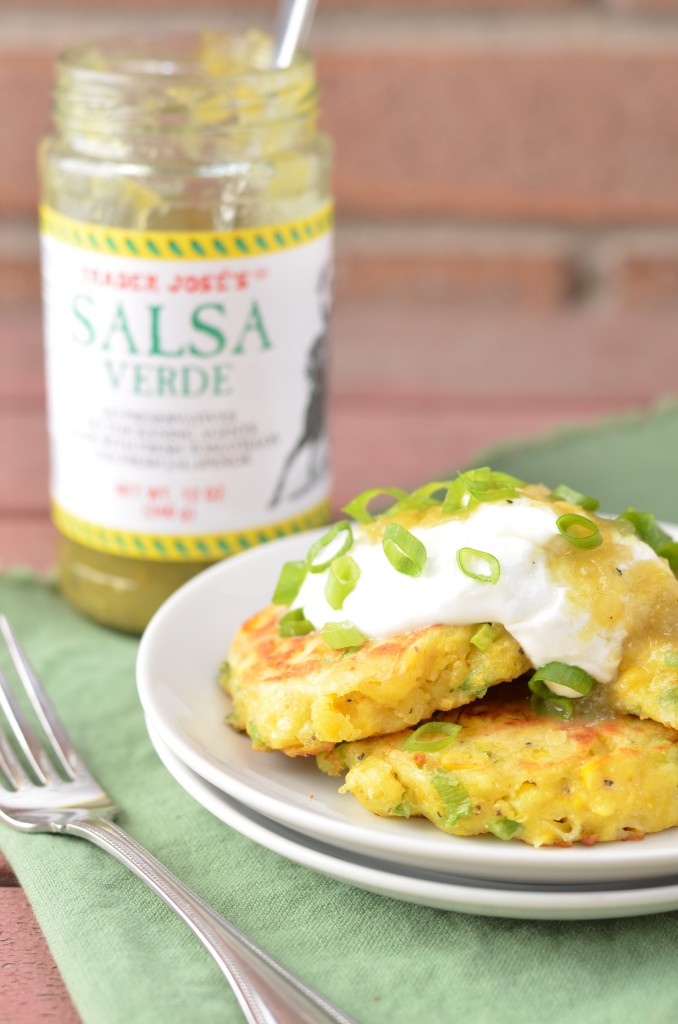 These little cakes are very low-maintenance, and I can imagine eating them at really any time of day. Make that at every time of day. And deliver some to me right now, please.
But seriously, we ate them at 4 pm, which is not a mealtime, and then ended up calling them dinner when we weren't hungry later. (Oh, except we wanted dessert, which is why we had to say we'd already had dinner.) They would also be great for brunch or lunch, or you could even make them half the size and serve them as an appetizer.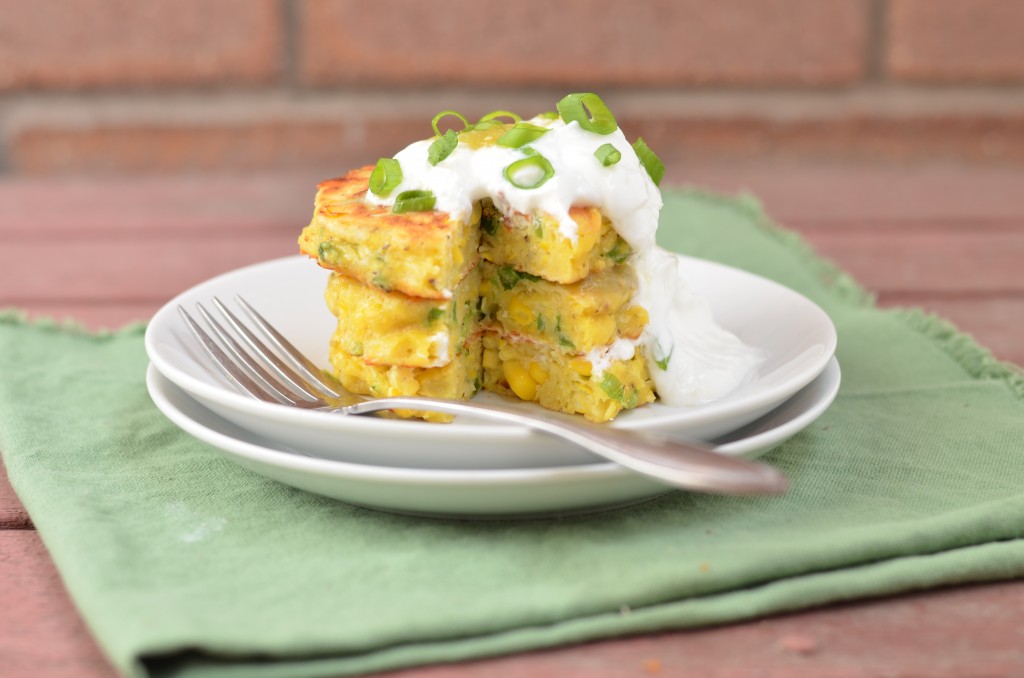 I liked mine topped with a scoop of Greek yogurt and salsa verde. That's just an option, of course, but I would recommend not topping them with something too spicy or over-the-top. The cakes themselves are super tasty, but the fresh flavors kind of get lost if you use too pungent a salsa or topping, in my experience.
Also, how pretty are the Trader Joe's salsa jars? I used one in my breakfast burrito pictures, too 🙂 I wish I could say this post were sponsored by Trader Joe's (hint hint, TJ's!), but that's not the case – I just like the way their salsa looks. And also tastes. This salsa verde pairs perfectly with anything cheesy! Yum. Highly recommend.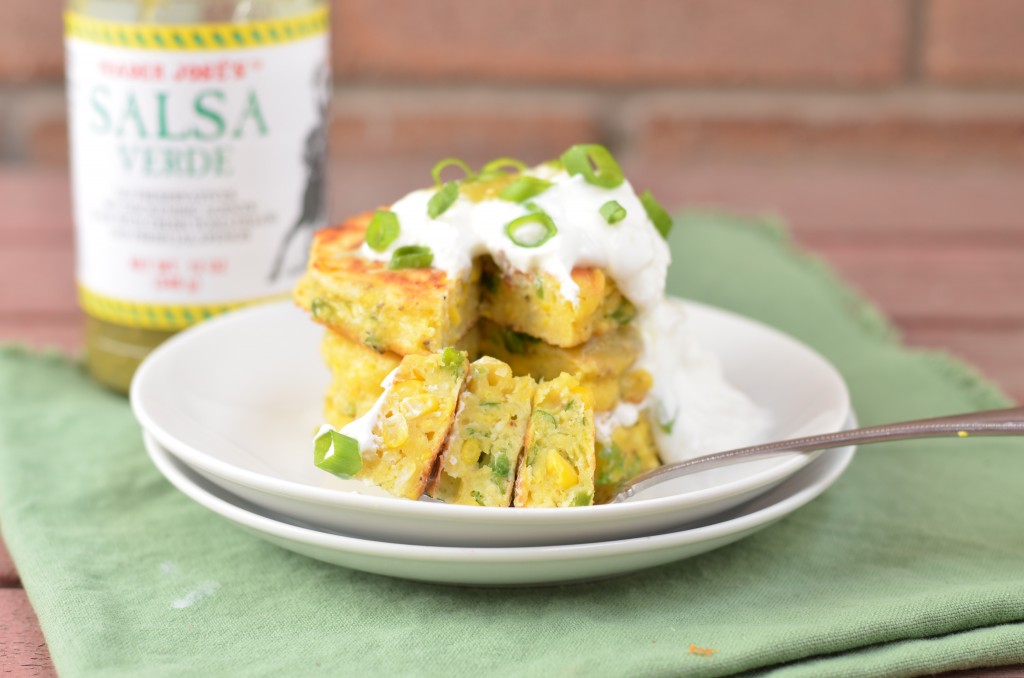 OK, I think that's all the news that's fit to print about these little cakes. Enjoy!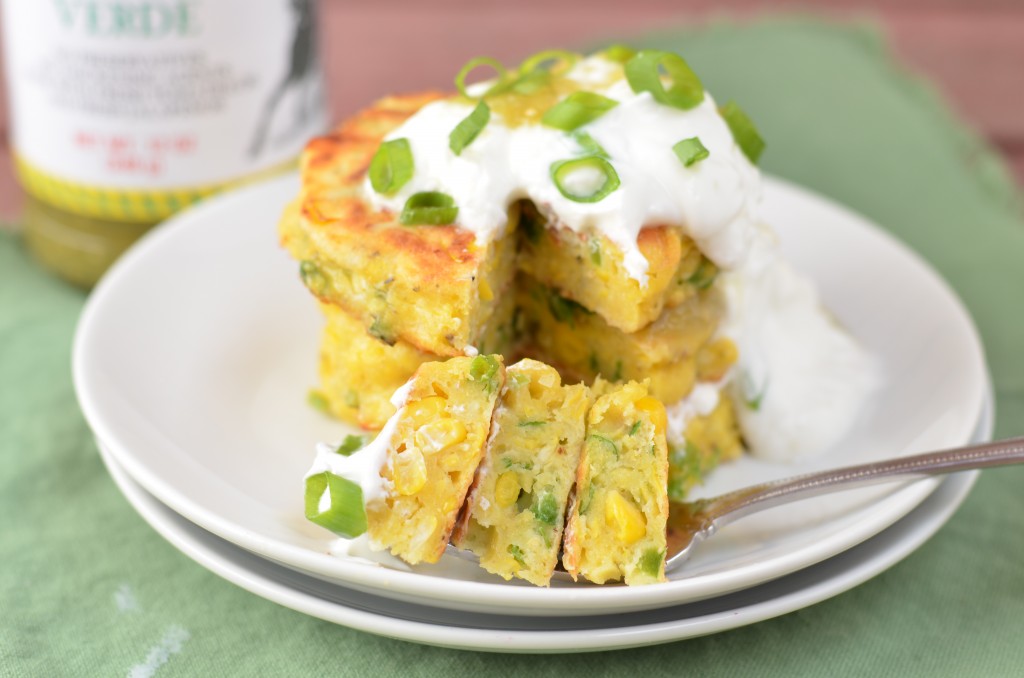 FRESH CORN AND JALAPENO GRIDDLE CAKES
These fresh-tasting griddle cakes are stuffed with corn, jalapenos, green onions, and cheddar, and then grilled to a crunchy golden perfection. Topped with Greek yogurt and salsa, they make a great brunch dish or hot appetizer.
Author: Erica
Yields: 10-12 small pancakes
INGREDIENTS
For the griddle cakes:
2 cups fresh or frozen and defrosted yellow corn (about 3 ears of corn)
1 jalapeno, finely chopped
2/3 cup thinly sliced green onions (about 5)
4 eggs
1/2 cup shredded cheddar cheese
2 Tbsp olive oil plus extra for cooking
1/2 cup flour
1/2 cup yellow cornmeal
1/2 tsp kosher salt
1/2 tsp ground black pepper
For serving:
Greek yogurt or sour cream
salsa verde
additional green onions
INSTRUCTIONS
Pulse 1 cup of the corn kernels in food processor until roughly chopped, just a few seconds. Add to a large bowl along with the rest of the corn kernels, jalapeno, green onions, eggs, cheddar, and olive oil. Stir to combine.
In a separate bowl, combine the dry ingredients. Add to the corn mixture and stir gently to combine.
Heat a non-stick pan or griddle over medium-high heat. Add a small amount of olive oil to coat. Scoop the corn batter, 1/4 cup at a time, onto the griddle. It should be somewhat thick, but you should not need to flatten or spread it. Cook until golden brown, about 2 minutes on each side.
Serve with Greek yogurt or sour cream, salsa verde, and additional green onions.
https://texastitos.com/wp-content/uploads/2015/04/titos_logo.png
85
134
Sales
http://texastitos.com/wp-content/uploads/2015/04/titos_logo.png
Sales
2020-05-11 20:33:00
2020-05-11 20:33:00
FRESH CORN AND JALAPENO GRIDDLE CAKES