Originally published by the kitchn
Written by Choya Johnson
When I heard that there was a Trader Joe's-approved margarita recipe that uses the same mix that shoppers have been raving about, I just knew I had to try it. So, I headed to my local TJ's and grabbed all the ingredients needed to kick off my weekend.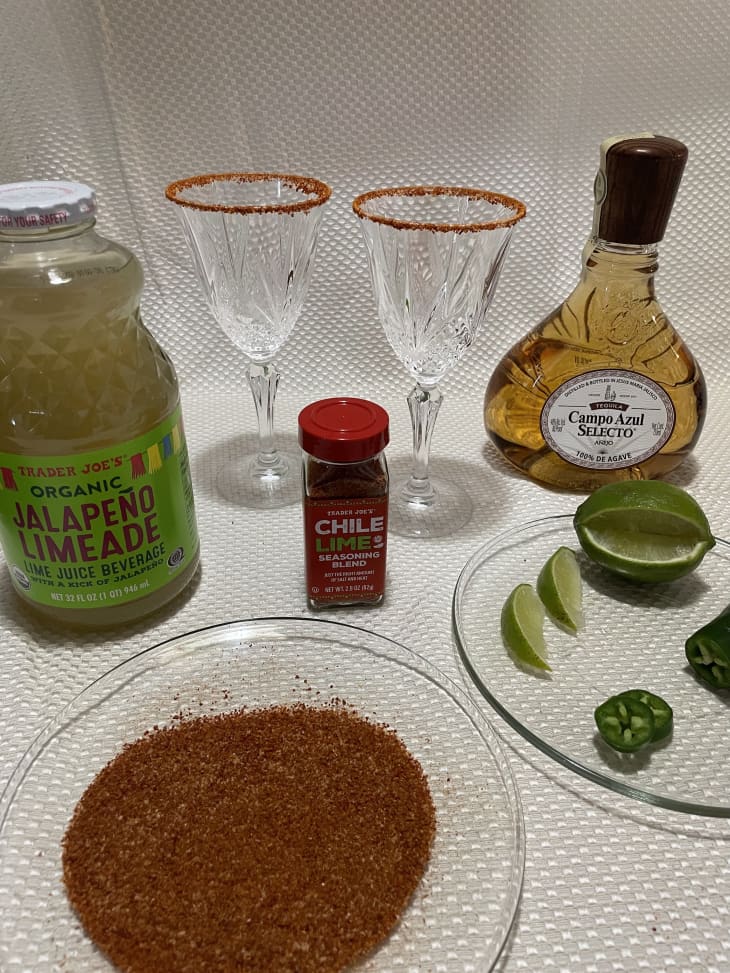 Photo by Choya Johnson
Ingredients
2 tablespoons TJ's Chile Lime Seasoning Blend
1 TJ's Lime, cut into wedges
½ cup of ice
1 ½ ounce of your favorite TJ's Tequila
¾ cup TJ's Organic Jalapeño Limeade
1 TJ's Jalapeño, sliced to garnish
How to Make the Trader Joe's Jalapeño Limeade Margarita
Pour your Trader Joe's Chile Lime Seasoning on a plate or any shallow dish. After rubbing a lime wedge (or dipping your glass in agave, honey, or lemon juice) around the rim of your glass, dip the rim into the seasoning to coat it. Next add ice, Trader Joe's tequila or the tequila of your choice (I used Campo Azul Añejo), and Trader Joe's Organic Jalapeño Limeade Margarita Mix. Mix well, garnish with a lime wedge and slices of jalapeño, and enjoy.
My Honest Review of the Jalapeño Limeade Margarita
I can pretty much get behind any beverage placed in front of me and I'm willing to try anything once. This cocktail, however, wasn't my favorite. Though spicy cocktails weren't on the top of my list before trying this, I like to say that I can always appreciate a good drink no matter what it includes. This, however, isn't one of those moments for me. Though it packed a lot of spice, it still lacked the flavor that other cocktails I've tested recently (like the Ginloma and Reba's Strange Juice) delivered.
Someone who really enjoys heat-heavy cocktails might like this better, but I'm not sure the mix really delivers.
https://texastitos.com/wp-content/uploads/2015/04/titos_logo.png
85
134
Sales
http://texastitos.com/wp-content/uploads/2015/04/titos_logo.png
Sales
2023-07-24 18:18:57
2023-07-24 18:18:57
I Tried Trader Joe's Jalapeño Limeade Margarita and Have a Lot of Thoughts